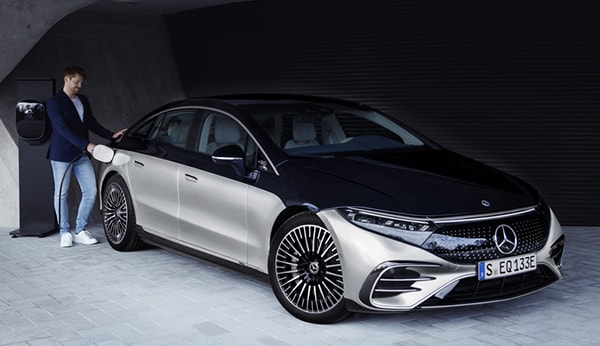 The EQS is the first all-electric luxury sedan from Mercedes-EQ. With it, Mercedes-EQ is redefining this vehicle segment. The EQS is designed to delight both drivers and passengers with a unique fusion of technology, design, functionality and connectivity. At the same time, it makes their everyday lives easier in many areas with the support of Artificial Intelligence (AI).
With ranges up to 480 miles and an output of up to 516 hp, the powertrain of the EQS meets every expectation of a progressive sedan in the S-Class segment. A performance version with up to 630 hp is being planned. All EQS models have an electric powertrain (eATS) at the rear axle, while the versions with 4MATIC also have an eATS at the front axle.
Charging
The EQS can be charged with up to 200 kW at fast-charging stations with direct current. Power for up to another 300 kilometers (WLTP) is recharged in just 15 minutes. At home or at public charging stations, the EQS can be conveniently charged with AC using the on-board charger.
With "Mercedes me Charge" the driver can simply drive to the appropriate charging station, open the flap, plug in and the current starts flowing: this is how easy the charging process is with the EQS, thanks to Plug & Charge. Other highlights include the densest network of charging points, with over 90% coverage of public charging points in the USA.
Hyperscreen
Inside the vehicle, the MBUX Hyperscreen is a wonder to behold. This large, curved screen unit sweeps almost from A-pillar to A-pillar. Three screens appear to merge into one as they sit under a single glass cover. The 12.3-inch OLED display for the front passenger gives them their own display and control area. The entertainment functions are only available while the car is being driven in accordance with the country-specific legal regulations. Mercedes-EQ relies on an intelligent, camera-based locking logic: if the camera detects that the driver is looking at the front passenger display, it is automatically dimmed to prevent driver distraction.
The EQS will be launched in the U.S. market this fall and will set new standards in the Mercedes-EQ model offensive.