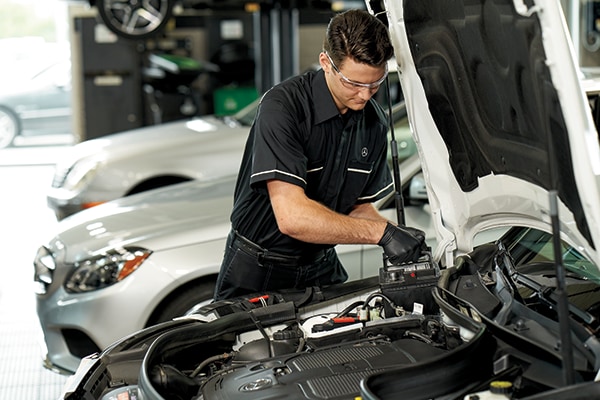 It's a terrible feeling to push the start button and nothing happens. Thoughts from "Who do I call first?" to "How much will this cost?" come to mind instantly. But they don't have to.
Avoid all the anxiety and added expense by having qualified Mercedes-Benz technicians check your battery now. They have the tools and expertise to tell you if your battery is good or should be replaced. Either way, you'll get the answers you need to drive away with confidence.
Save Time and Money with Genuine Mercedes-Benz Battery
Virtually any battery will start your vehicle. But if it doesn't have the proper specifications, it's only a matter of time before you'll be stranded and have to go through the battery-buying process again.
Genuine Mercedes-Benz Batteries are designed specifically for Mercedes-Benz vehicles. They have the current needed to keep the advanced systems in your vehicle working optimally and the durability so you can drive with peace of mind, year after year.
Make an appointment today to have your battery tested.