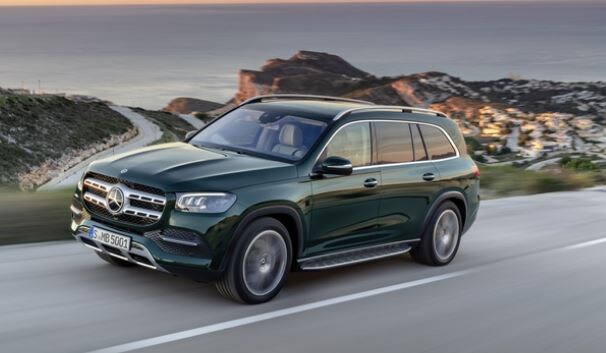 The new Mercedes-Benz GLS is the largest and most luxurious SUV from Mercedes-Benz and, above all, offers more: more space, more comfort, more luxury. The confident presence of its exterior stems from its impressive dimensions, which are larger than those of its predecessor. One of the benefits of the 2.4-inch (60 mm) longer wheelbase is interior spaciousness, especially in the second row. The three fully electrically adjustable seat rows offer all passengers a generous amount of space and outstanding seating comfort. The seats in the third row can be lowered into the floor to increase the trunk space, while the seats in the second row fold flat.
As the S-Class of Mercedes-Benz SUVs, the new GLS indulges its passengers in every way, especially those in the rear. Here are some key comfort features at a glance:
Executive Rear Seat Package: Separate tablet for controlling all of the MBUX comfort and entertainment functions from the rear seats
Electrically adjustable seats throughout as standard, as is the Easy- Entry function, which makes it easier to get into and out of the third row seats
Simple folding-down of all rear seats at the push of a button
Choice of either three-seat rear bench seat or two luxury individual seats with armrests in the second row
Two fully fledged seats in the third row (for people up to 6.4 feet/1.94 meters tall)
Heated seats and separate USB charging ports for the third row
Five-zone automatic climate control available (standard on GLS 580)
"The new GLS is the S-Class of premium SUVs. It embodies luxury, confidence and intelligence like almost no other vehicle," states Ola Källenius of Daimler AG.
See our 2019 GLS inventory.